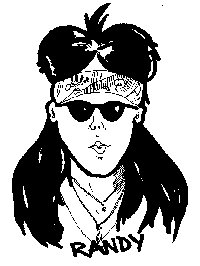 Randy Thodes

Lead Guitarist, Lead-Lined Liver

Randy, the youngest member of Vinyl Tap founded the band along with eddie and has stayed with the band ever since (except the bits when Angus Dung and Gary Moron took over while he was in Re-Hab)

Randy, of course, was lead guitarist with legendary wild man of rock Froggy Frogsspawn in the seventies and early eighties and lead the life of excess along with Froggy. If Froggy did sex, drugs and rock and roll, then Randy would copy it and then eat a Kebab at the same time. Randy is able to say "Where is the Bar?" in 27 languages.

Randy's excess came to a head in the early eighties when he tried sex, drugs, Rock and Roll and Kebab (with extra chilli sauce) while flying a light aircraft and the resulting crash lead many people to believe that he was dead.

In fact Randy was thrown from the plane on impact and as luck would have it he landed in the septic tank of the local sewerage works the soft consistancy broke his fall and the lack of oxygen in the depths of the poo kept him in a reasonable condition until he was finally dug up by Eddie who at the time was looking for a donkey, a teddy bear and a small pig after misinterpreting a well known children's story. After the obvious surprise at finding a well known rock icon at the bottom of a cess pit the two became great pals and forged the links which would one day become the Tap.