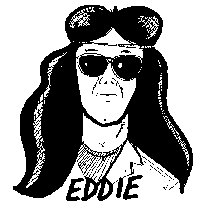 Eddie Van Rental

Front Man: Vocalist, Bassist, Brahmsanlist

Eddie Van Rental, born in 1959, came from a very musical family and so was destined to become a musician, an ambition he is still trying to fulfill today.

Eddie's father, Albert, was a famous folk-blues musician in the fifties and sixties specialising in the Venezuelan Nose Flute until the Board of Health and Safety outlawed this most difficult of instruments to master after an unpleasant gig at Ronny Snot's Jazz Club in 1967 when three people drowned and several more had to be soaked in turpentine overnight to remove the sticky mess.

Eddie's mother, Enid, was a housewife and spent most of her time scrubbing out the music room.

Eddie started his musical career at school forming several bands until he met up with Brian Hurtz and formed the legendary Progressive Sock band Hurtz-Van Rental a most prolific duo who produced nearly 2,000 songs and a staggering array of shirt/sock combinations.

When HVR went their separate ways in the late sixties mainly due to the decline in people willing to darn cheaply, Eddie formed the now Legendary Vinyl Tap with Randy Thodes of Drunk Sabbath, the rest as they say is history. Well they don't actually say it, they don't mean it either but the sentiment is there.